Dedicated Hosting vs. Shared Hosting
Read this article to learn about, 'Dedicated Hosting vs. Shared Hosting'.
Dedicated server hosting
If you employ a dedicated server for your website, you have exclusive access to the entire machine. One of the first considerations you'll have to make when beginning a new website, blog, or app is where your site will be hosted. Shared servers and dedicated servers are two of the most prevalent options for hosting a website, but there are many more options. As the name implies, a shared server is available to multiple online users. On the other hand, if you opt for a dedicated server, only your website will be hosted on it.
What is shared hosting?
A type of web hosting known as shared hosting allows numerous websites to be hosted on the same server at the same time. There is a limited amount of resources available on the server to all the websites hosted there. There is a fixed amount of server resources and storage space allocated to each website on the shared server. In accordance with the chosen hosting plan, the resources are allotted.
Windows shared hosting or Linux shared hosting can be selected by the website or blog owner. The website's preference dictates the operating system that will be used.
You have the option of choosing between Linux and Windows shared hosting plans depending on your preference for coding language and development platform. ASP.NET developers, for example, have the option of using Windows shared hosting.
Dedicated Hosting vs. Shared Hosting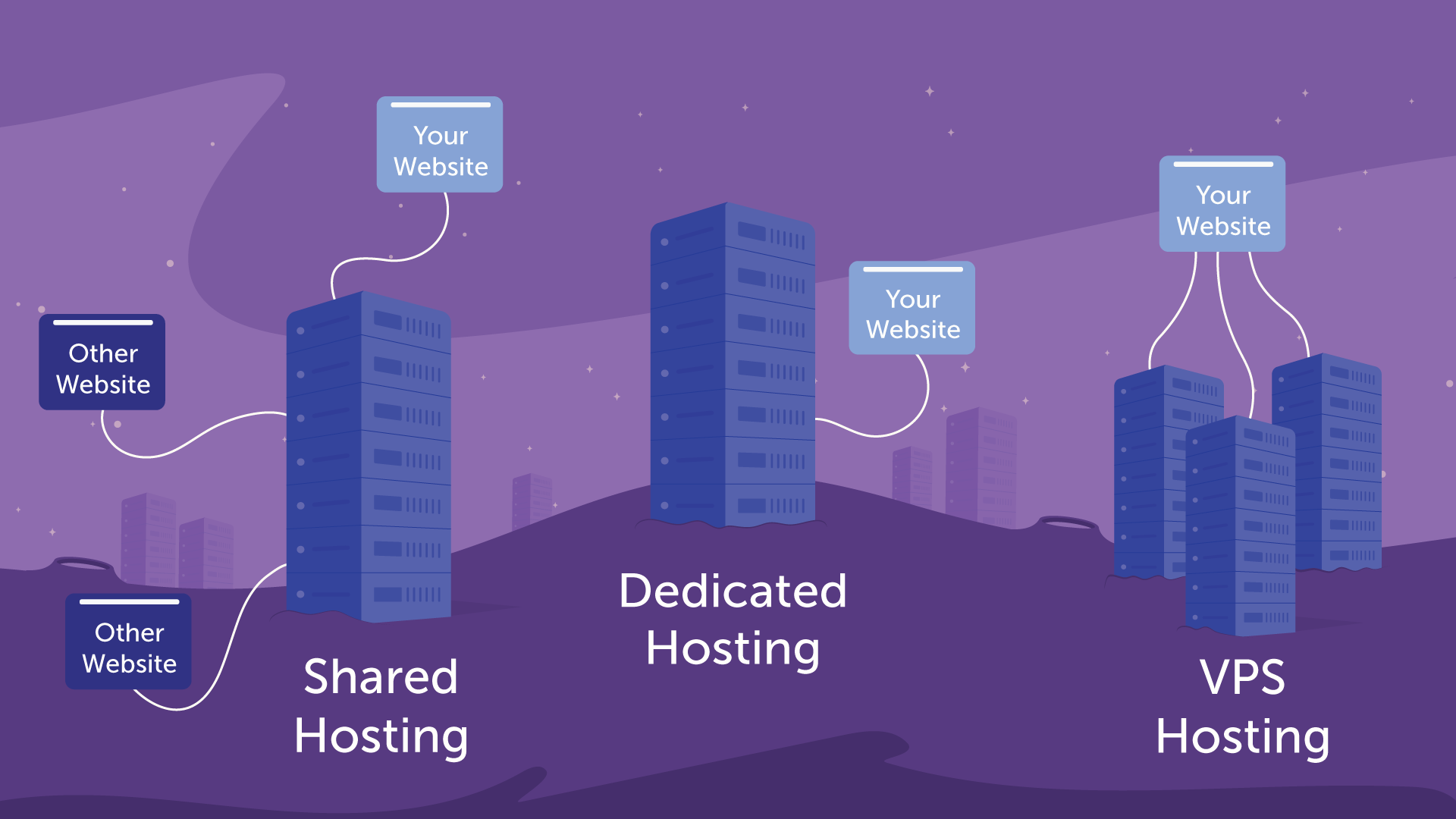 The following are the differences between dedicated hosting and shared hosting:
Cost
Sharing a server with other websites means that you'll have to pay for the server's upkeep. If you have a dedicated server, you'll be responsible for all of the costs associated with running it, including hardware updates, software, and the hiring of any necessary staff to keep it running smoothly. With a dedicated server, you'll pay more, but you'll have more possibilities.
Bandwidth
Server sharing involves sharing the actual server's bandwidth, memory, and computing power with other users. Website speed may be affected if another site housed on that server is experiencing a high volume of traffic. When it comes to online shopping, this could hurt the speed at which your customers can access your sites. if your website doesn't expect a lot of traffic, this may not be a problem. A dedicated server gives you complete control over your website's bandwidth and processing capacity.
Security
Firewalls, virus software, and any other server security applications must be installed by the hosting firm on a shared server. You must set up the security software you desire on a dedicated server. Because you're the only one using the server, viruses and security breaches from other websites are less likely to occur.
Experience of the present technology
On a shared server, much like with security, the hosting firm is responsible for taking care of the server's more technical needs. Dedicated server customers must have a higher level of technical expertise to manage and administer their servers.
Control
The most significant benefit of a dedicated server is that it gives you complete control over your resources. With a shared server, the hosting firm is ultimately responsible for all of its clients' decisions and has the final say. To ensure that your website runs at peak efficiency, you'll need a dedicated server.
The greatest advantage of a dedicated server is having all the control.
Advantages of dedicated server hosting
a) Greater uptime percentage.
b) Better efficiency.
c) Greater reliability.
d) Better safety.
e) More flexibility.
f) Unlimited access.
Disadvantages of dedicated server hosting
a) Increased cost.
b) Not suggested for small businesses or websites with low traffic.
c) Needs technical knowledge/experience.
Dedicated Hosting vs. Shared Hosting — Which is the best for you?
Understanding your company's budget and operational requirements can help you make an informed decision on the best server for your needs.
If you're a small business, a shared server will save money and handle some of the technical requirements, but it may slow down your website and limit your ability to customize your site.
A dedicated server is more expensive and necessitates greater technical expertise. You can run the server as you see fit and won't be bogged down by other websites on the same server as yours. Security protections, the software that runs on it, and server technical limits can all be controlled by you. A dedicated server is a method to choose if you are going to have a lot of web traffic or require a lot more data and capacity.
How to choose a dedicated server hosting plan?
Just like picking a dedicated server, finding the proper dedicated hosting company can be a challenge. First, ensure that the services they offer are a good fit for you. The following are a few things to think about:
Server stability: It's important to know how stable your server is in terms of its general speed, availability, and usability. What's the end result? As a result, you'll want to choose a provider that has an uptime of at least 99.95%.
2. Customer support: To get the most out of your dedicated server hosting experience, seek for a company that provides round-the-clock customer service via a variety of methods (such as telephone, email, and live chat). There must be someone on call in the event of a server outage (which is almost certain), and that person's response time must be quick.
3. Customization: Are there Linux and Windows options for the hosting provider? Is it possible to customise the way your hard disc is partitioned? What are the possible hardware options?
4. Safety: In terms of security, dedicated servers are naturally more secure than any of the shared solutions, but this does not imply that you are completely protected from hacker attacks. Look for a hosting service that includes built-in security mechanisms to ensure the safety of your website.
CONCLUSION
After reading this article, you might have got a good knowledge about, 'dedicated hosting vs. shared hosting. You can also read this article to learn about, factors to consider while purchasing best dedicated server hosting plan.
You can buy cheap RDP from 99rdp.com.
You can also read this article to learn about, how to use Microsoft's remote desktop connection.
.