Reseller Hosting vs. Dedicated Hosting
Read this article to learn about, 'Reseller Hosting vs. Dedicated Hosting'.
Do you want to get started in the web hosting industry, or do you require a solid web hosting service for your company? Like many business owners, you may be trying to decide between reseller hosting and a dedicated server. So that you can make an educated choice, we'll go over the pros and cons of both shared and dedicated web hosting in this post.
We did so by analysing key web hosting-related aspects that every website owner should think about before settling on a provider. Control, availability of resources, security, manageability, and adaptability to user needs, as well as overall performance, were all evaluated and compared across various web hosting solutions. You'll find everything you're looking for and more by reading on.
What is Reseller Hosting?
One form of web hosting known as "reseller hosting" involves a separate business entity purchasing server space and bandwidth from a larger web host company and then reselling it to numerous smaller websites. The account holder acts as an intermediary between the web host and the websites they are selling to.
For those just getting their feet wet in the hosting world, a reseller account is the way to go. Since the web host handles all server maintenance and other technical details, no special skills are required. If you can find resellers, you're good to go.
What is Dedicated Hosting?
With dedicated hosting, a web server is set aside specifically for a single client. Dedicated hosting gives you full control over your server without having to share it with anyone else, unlike shared hosting.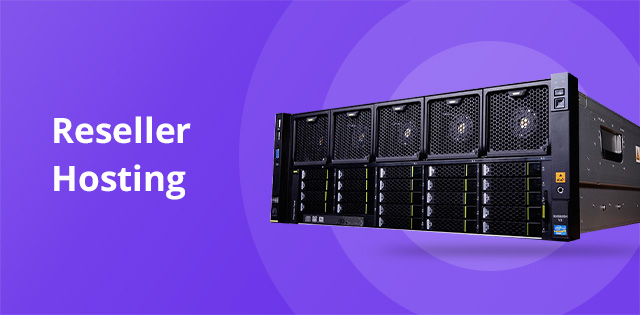 Because the business owner has full control over an entire server, they may also branch out into web host reselling on a grander scale with this web hosting setup. It also facilitates the distribution of unused assets to other customers.
A dedicated server, however more expensive, has numerous advantages over reseller hosting. This is typically chosen by large corporations who have a need for extensive customization of their web server and are willing to foot the fee.
Reseller Hosting vs. Dedicated Hosting
There are a number of things to keep in mind while deciding on a web hosting service. For one you need to consider the type of online business you'll be running. Is it a blog, an online store, or a person's online portfolio? Which web hosting package is best for you depends on the nature of your website. You should also consider how much assistance you'll need to manage the website in light of your level of technical competence.
1. Resources
Websites work by using certain resources such as RAM, hard drive space, operating system, and bandwidth. These resources determine the performance and speed of a website and work differently for each web hosting type. These resources are resident on the server and are allocated differently depending on the web hosting plan.
For reseller hosting, the resources bought can be shared across multiple third party websites, with each site having its own specific amount of resources. On the other hand, dedicated servers are unique to a single user and as such, all the resources on the server are used by the business owner .
Reseller hosting plan is an excellent option for freelance web developers or startups in their early stages. You typically do not require considerable resources, and the WHM tool easily allows you to allocate resources to third-party clients
Unlike other web hosting plans, a dedicated server allocates all resources on the server to a single website. That is, the resources are dedicated to just one user. Business owners searching for large online space and bandwidth will benefit the most from this web hosting.
2. Performance
Website performance is crucial in attracting visitors to any site and converting traffic. It typically depends on how many resources the website has and how optimized it is. Websites that share server resources are more prone to performance issues like slow loading or low uptime as multiple sites use the resources. Dedicated servers don't have such problems as the resources they have are capable of catering to the website's traffic.
With Reseller Hosting, performance and speed depend highly on the parent web host company you're purchasing from. Confirm that they guarantee fast speed before buying from them.
Dedicated servers are dedicated to a single user. That means a single user gets to make use of all the resources on the server. As a result, a website on a dedicated server is as reliable as it is fast.
3. Safety
Hackers and other online security threats are constantly finding creative ways to scam and attack online businesses, which is why security is a vital factor to look out for when selecting any web hosting type. Ensure that the web host provider you're buying from has specific security measures that trigger security protocols in the event of a suspicious activity or malicious attack on your website. Look out for things like periodic security updates, replacement of security patches, and regular security checks.
Reseller hosting works with multiple third-party websites on a single server. Although each website has its share of resources, security threats to one website can still affect the others as they are all connected to one server.
Dedicated servers offer more security by allowing you to install various scripts and security software to your server. This way, you can bolster the security of your website and safeguard it from those with malevolent intent.
4. Customization
Customization refers to your ability to make changes or modifications to your server. This involves changing the color, style, design, or logo to your preferred choice via your cPanel. Both reseller and dedicated hosting offer some form of control in terms of what you can customize; however, dedicated servers give you more flexibility than reseller hosting.
The best reseller hosting plans come with software tools like Web Host Manager (WHM) that provides access to cPanel of individual websites and allow you to make adjustments as you see fit.
Dedicated hosting is big on control, and this includes customization. Since you have root access to the server, you can easily make changes like installing a different Operating system, customizing the hardware or changing your website user interface as you see fit.
5. Management
Website management is typically taken care of by the web host provider. They help with server maintenance and other backend technical issues relating to server management. While this is the case for reseller hosting plans, it's a bit different for a dedicated server as the business owner is in charge of server management.
Recent reseller hosting packages come with software tools that allow you to manage third-party websites under your account. However, your parent web host company is in charge of server management.
A dedicated server requires you to either have an IT background or a team of IT specialists who will run and manage the server.
6. Price
Another critical factor to consider when choosing a web hosting plan is your budget. If you're a small business owner, reseller hosting is much more affordable compared to dedicated servers. It is also beginner friendly and provides enough resources to take care of the current needs of your business. A dedicated server costs more than reseller hosting but offers a lot more features and functions.
Reseller hosting is more affordable than a dedicated server and ideal for a newbie web host.
A dedicated server is typically used by large businesses that require a lot of resources and experience heavy traffic on the site. Although expensive, it provides all the features and functions your business needs to thrive.
7. Complexity
Web Hosting is complex. It has both hardware and software components that will most definitely seem like jargon to a non-tech person. Most web host providers try to make up for this by offering various plans depending on your level of expertise.
For instance, non-tech savvy folks are more likely to opt for reseller hosting as the web host provider takes care of all technical aspects of the website. On the other hand, you'll need some form of IT knowledge of server management to make the most use of Dedicated Server plans.
Reseller hosting is the best place to start for web hosting if you're not tech savvy. Most packages come with a Web hosting Manager tool that allows you to manage multiple websites while your web host company handles the technical aspect.
A dedicated server provides you root access, and that means you are in charge of server management and other related aspects of running a server. This requires a high level of technical expertise.
8. Setup
Website setup involves both the hardware and software aspects of setting up a website. For reseller hosting, your host provider is responsible for website setup, software, and OS installations. All that's left to do is manage the setup for the third-party websites you're selling to. Dedicated Server plans don't provide such luxury. The business owner is usually in charge of software installations and other setups the website needs to run smoothly.
Under reseller hosting, the web host company is in charge of server setup, configuration and other related settings. The reseller simply manages the third party websites on their account.
Dedicated servers are mostly self managed by the business owner and this includes initial setup of hardware, software installations, security settings and configuration.
9. Control
Various web hosting types offer control in varying levels. A dedicated server provides the highest level of control as it allows you to have root server access which means you are entirely in charge of your server. Reseller hosting offers some form of control, but it is limited.
Reseller hosting does not provide as much control as a dedicated server; however, you have control over cPanel administration for all the third-party websites under your account.
Control is a dedicated server's biggest advantage over reseller hosting. It allows you to install different software and make changes to the operating system as you wish. If you're looking to have complete server control, then a dedicated server is your best option.
10. Configuration
Configuration in web hosting refers to your ability to set up different programs in a certain way on your server. Depending on how much access and control you have over web configuration files, you can manage the various settings that define your website or control how a specific directory behaves. This is quite similar to customization, and it depends mainly on the amount of resources and control you have.
Reseller hosting doesn't offer much in terms of server control, and configuration is limited.
Dedicated servers have a lot to offer in terms of configuration as the user has complete server control and can make different installations or set up as they see fit.
11. Scalability
Scalability in web hosting depends on your ability to expand or upgrade your resources. When your website grows and enjoys more visitors, you will need a larger space and bandwidth to accommodate the heavy traffic. If you have a scalable plan, you can easily increase your resources which will improve the performance of your website and save you from losing customers.
Reseller hosting offers scalability in the event of your website needing more resources.
In most cases, Dedicated servers are the go to option for scaling up small businesses that used to run on shared or VPS hosting plans. This is because upscaled/large businesses require scalability, and that is one of the strong points of dedicated servers.
Conclusion
When selecting a web hosting plan, there's a lot to consider; however, your business type, size, needs, and budget should be at the top of your list. Both reseller and dedicated server hosting have benefits that are ideal for different business types. Simply read through our analysis to find out the one most suitable for your business.
After reading this article, you might have got a good idea about, 'Reseller Hosting vs. Dedicated Hosting'. You can read this article to learn about Reseller hosting vs. VPS Hosting.
You can also read this article to learn about the features and functions of RDP.
Visit 99rdp.com to know about the pricing plans of RDP.