Best Benefits Of A Dedicated Server
Read this article to learn about the, 'Best Benefits Of A Dedicated Server.
Best Benefits Of A Dedicated Server
A dedicated web hosting server is a great option if you want to control every aspect of your website.
Your car, home, and cell phone are all owned by you! We like a sense of belonging.
Now that you have everything you need offline, why not invest in a system that allows you to keep your popular website up and running 24 hours a day, seven days a week?
If you don't already have one, you should get one as quickly as possible in this day and age.
A high-performing website is a must in today's digital world, where everyone is building an online presence. Even if you run a company, do you have a functioning website?
Hosting is one of the most critical components of a successful website. On a shared server, you can receive a lot of resources for a very little price. When you host a website, you may notice slow-loading websites or a stretched backend as a result of the stress.
Dedicated servers are necessary if you want to take your website to a new level. People are doing every effort to see their business expand at a rapid pace. Your company's growth may be hindered, however, if your resources are constrained. There's a good chance a dedicated server can solve all of your problems.
Dedicated servers put your website on an even playing field with your industry's other players, but they come at a greater price. It helps you keep up with the pace of today's highly competitive business world.
If you have a large business or a high-traffic website, dedicated hosting is the ideal option. When it comes to website security and stability, dedicated hosting is the way to go if money is no object.
What is a dedicated server?
Dedicated web hosting/server hosting gives you access to a whole server's worth of storage space only for your websites. The dedicated server you pay for is yours alone, and no one else has access to it. High-traffic websites are usually better served by dedicated servers.
For more information on dedicated server load balancing, see this article.
Who should use dedicated servers?
Large e-commerce websites must employ dedicated servers since they can't afford downtime. E-commerce websites may see an increase in traffic during promotional periods, so it's important to keep an eye on them to make sure they don't go down during the busiest shopping hours. To keep your online business open during peak hours, you need a dedicated server that can handle the demand.
A dedicated server might assist you to handle the number of visitors from high-profile clients if you run an agency.
If your website receives a lot of traffic regularly, you might consider using a dedicated server. In some cases, shared or VPS servers may not be able to handle the load, so a dedicated server is the best option.
Best Benefits Of A Dedicated Server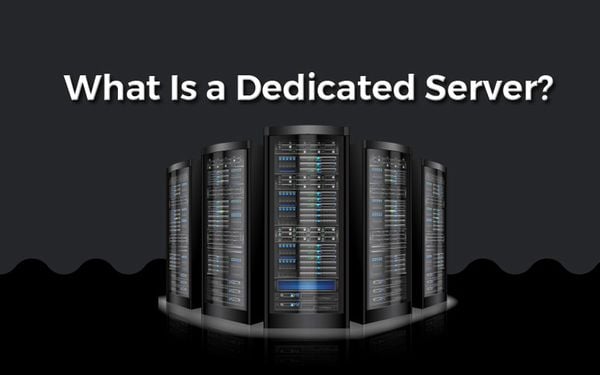 Offer dedicated hardware: With a dedicated server, you can control your hardware.
There are two advantages to using a dedicated server:
a) With a dedicated server, you won't have to share your server resources with other websites.
b) You have complete control over your server and can tailor it to the needs of your website.
2. No maintenance or purchase price: Hardware equipment is free to purchase and maintain.
Dedicated web hosting can provide the power of a dedicated server at a fraction of the cost of owning and operating one. The expense of developing and maintaining server equipment is covered by a dedicated hosting service, which lowers the price of server space and increases the return on investment for a firm.
These benefits, on the other hand, come at a price. A dedicated hosting service may be the best solution for sites with a high volume of traffic or requiring a high degree of customization and security.
3. Offers a greater level of safety: There is no possibility of security threats from neighboring websites because there are no other businesses in the immediate area. Install and customize security software to your website's specifications.
4. Provides a higher degree of reliability: In shared hosting, other websites on the server can have an impact on your website's performance. Your site's performance will be impacted if one of your competitors' sites receives a large volume of traffic. As an example, a slow-loading website may be the result. Visitors are put off by a slow site, and it hurts your search engine rankings.
Because you won't have to share the server's resources with any other website, this issue won't arise with dedicated hosting. Dedicated hosting also ensures the best levels of website efficiency, security, and uptime possible.
5. Gives full server control: Because you pay for the full server with dedicated hosting, you have complete control over the server. You are free to install whatever software, tool, or app you like on your computer. To put it simply, you may tailor the server to your specific needs and add any additional features you choose.
6. Provides fast customization: It's possible to tailor a dedicated server to your particular criteria by combining the proper amount of processing power and storage space. To get the exact hardware you need, servers can be customized in a variety of ways. Scalability is an important consideration for long-term hosting services because customers' computing needs are expected to fluctuate over time. A dedicated server provides this capability.
Adding extra RAM, a faster CPU, or a larger hard drive is as simple as plugging in a stick of RAM or another stick of RAM.
7. Offers a dedicated IP address: An IP address is a number that uniquely identifies a computer. If you choose shared hosting, your IP address will be shared with several other websites.
Your IP address is assigned to you when you sign up for dedicated hosting, which gives you access to a dedicated server. To take credit cards on a large e-commerce website, you'll need a dedicated IP address.
8. 24*7 on-site support: On-site support is available 24x7x365 for dedicated servers, so you'll never have a problem with your gear. Customers can reach customer service representatives by phone, live chat, email, or by submitting a help request form online.
Support functioning varies as per the hosting service provider.
CONCLUSION
After reading this article, you might have got a good idea about, 'Best Benefits Of A Dedicated Server. You can also read this article to get good knowledge about, what are the different types of VPNs. | Benefits of using VPN.
It is possible to host your website, software, and data on a dedicated server without sharing the hardware with other customers. Other benefits include dedicated hardware, improved speed, and up-to-date security and reliability measures for your website.
• Choose a dedicated server based on the type of hardware, price, location, and whether or not it has DDoS protection before making a final decision.
A dedicated server isn't necessary for every website, but if yours is e-commerce or high-traffic website, or if you're a reseller, you should. For the sake of your website's seamless operation and performance, consider purchasing a dedicated server when you're spending a lot of money on website development.
You can also read this article to learn about, 'the features and functions that you get in RDP'.
If you want to know where to get cheap RDP and its pricing plans, then go through 99rdp.com.